Overall Series Table 2023
Full Season results Races 1-38
Races 1-29
Races 1-23
Autumn Series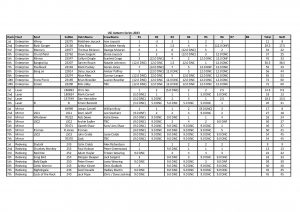 Summer Series Races 
Races 1-14 
Overall Series Table 2022 
(Swipe left to scroll races)

Fishermans Cup 2022 
Fishermans Cup Scoring
The Fishermans cup is competed for by all fleets.
A high scoring system is applied so highest number wins
Score is rleavtive to the number of boats that start a race in each fleet

If 5 or more boats start then the winner scores the max 5 points
If 4 boats start then the winner scores 4 (3 and the winner scores 3 etc.)

The points scored reduces by 1 for each subsequent position counting down until all starters in fleet score at least 1 point for racing
The boat with the highest total points at the end of the series wins
A tie is broken by

The highest number of races started
If still a tie then countback is applied where each boats results are sequenced highest to lowest and the first result at which one boat has a higher score than the others determines the winner.
Summer Series Table 2022 
(Swipe left to scroll races)